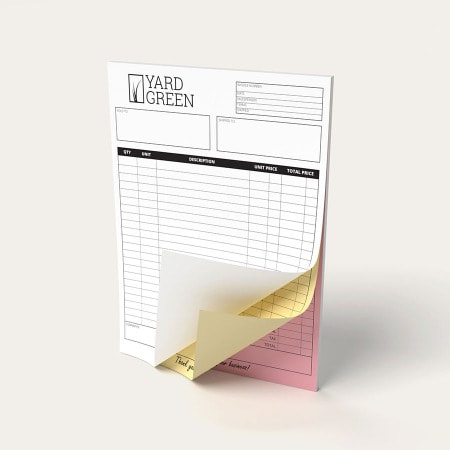 3-Part NCR Forms
SKU:
142
991
$142.00 - $991.00
Unavailable
per item
NCR Forms are a perfect tool for your invoicing, POs and receipts. Writing on the first sheet transfers over to the subsequent two sheets in the form. You design it and we print it. They are printed on 20lb uncoated stock.
U P L O A D Y O U R
​D E S I G N

Requirements:
We require a print ready PDF file to produce your marketing product.
​
Variable Numbering (Important):
If 'Variable Numbering' is selected, please include (3) files:
PDF file (artwork)
Excel file containing a list of the numbers you need printed on the tickets
Dummy version of artwork showing exactly where and how you need the numbers placed
Design Criteria Tip:
NCR forms are best suited for monochromatic and solid color designs as the same image would print on the white, yellow and pink sheets. Keep in mind when designing your forms that gradients and other type colors that will not look as good on the pink and yellow sheets.
Note: 3-page forms cannot be glued into larger pads. Our 3-Part NCR Forms are glued as 3-page forms only.How to Submit your artwork
Add your selected product to the cart
Upload your artwork & email address
Click "SUBMIT"
Proceed to checkout or add more products
Once you have checked out and the order is processed you will receive a digital proof. Your digital proof 'must' be approved in order for production to begin. This ensures a high quality print job with the submitted artwork for your product.
Note: We do not correct or make any adjustments to the submitted artwork. Please utilize our resource guides and file preps to help you achieve the best high quality prints.
Quick Setup Guide
​Step 1
Ensure the artwork matches the product's required production dimensions (the artwork must be the size needed for production). The artwork must be created in CMYK 300 dpi or higher with 1/16 inch bleeds on all sides. Make sure that all images are embedded, and that all the text is outlined. This eliminates font searching and dropped fonts along with broken image links.
Step 2
Export all files into PDF format with bleeds. Export artwork from your design software. This ensures proper PostScript output needed to produce your products.
Step 3
Browse to your saved PDF files and upload them to our server. Your uploaded files will be added to your order. Once you have checked out, your order will be processed and you will receive a digital proof via email. All digital proofs require your approval after recieving.