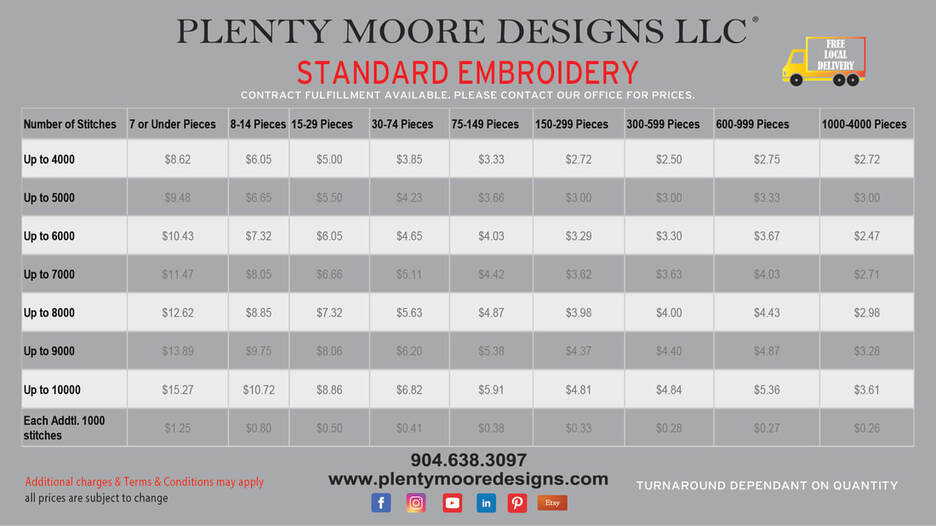 ​Additonal Charges
Creation of Keyboarded Text Files (not including name personalizations below)Minimum $20.00
Sewouts of Third-party Embroidery Files Minimum $10.00
Rush Charge (minimum $10 per rush order of less than 5 business days) Addtl. $2.85 piece
Personalizations : One Line $8.00/piece, Two Lines$9.50/piece
Excessive Thread Color Changes $0.75/piece
Regular Hat Fronts Add $0.35/piece
Bucket Hat Fronts and Ski Hats Add $0.50/piece
Embroidery on Towels/Robes/Sweaters/Fleece Add $0.50/piece
Embroidery on Bags Add $0.80/piece
Individual Folding and Polybagging Add $1.25/piece
Metallic Thread Add $0.55/piece
Puff Embroidery Add $1.75/piece
Copy of Disk (first disk or copy included in digitizing fee) $25.00
​Packaging/Shipping Fees
​
Check-in/sorting fee $0.35/ per piece after 100 pcs
Terms & Conditions
Standard Service: Up to five (5) working days for digitizing. Working days for embroidery upon approval of logo is based on current production loads. Normal production turnaround is seven (7) working days.
All stitch counts rounded up to nearest thousand.
5% damage allowance (PMD will issue credit to your account for actual damaged garment cost over 5%).
We are not responsible for embroidering on defective items or incorrect styles, colors and sizes sent by vendors or customers.
Quantities for pricing purposes determined by number of pieces per design. Flats and hats not combined for quantity.
We are not responsible for quality of embroidery from files not digitized by our company.
Back orders may be billed as new orders, based on applicable quantities for each separate production run.
Prices subject to change without notice.

Call To Place Your
​Embroidery Order
Follow Us
---