​Direct To Garment (DTG)
What is Direct to Garment (DTG) printing?
DTG is less complicated that you would expect given that it can capture complicated images so accurately on something as soft as a shirt or sweater. The best way to think of DTG is like at home printing from your computer, except that the paper is replaced with a shirt. Like your at home printer, DTG printers do not need to be set up for individual jobs and can render millions of colors.
Some DTG printers are even manufactured by companies that make standard inkjet printers like Brother, but are simply modified to accommodate the additional bulk of garments and use inkjet textile inks, instead of what you buy for your printer at the store. The cost of ink is a little bit more, which is why printing on colored garments (black and vivid colors) is somewhat costly; an under base of white ink has to be laid below the actual colors of your design to ensure that the colors look like you intended. The white under base provides a solid white base for your other colors to lay on top therefore giving you vibrant and bright colors throughout.
The process used for translating the colors from the digital image into ink to print onto the garment relies on the CMYK color model plus your white underbase (CMYK+W). CMYK+W stands for cyan, magenta, yellow, K for black, and W for white. This model is also referred to as four color processing because it uses combinations of these four ink colors, CMYK, usually applied in the order in which they appear in the acronym, to create all the colors in the digital design. The inks bind directly to the fibers of the garment's material, which is why cotton a fibrous material is better for DTG printing than polyester - a much smoother material. Once all the colors have been added and the design is complete, heat will often be used to cure the ink. This entire process can take hours for a screen printer to achieve and minutes for a DTG printer.
Why DTG printing over Screen Printing?
​
Digital printing is a much newer process that involves your artwork being processed (Raster Imaging Process (RIP) by a computer and software, and then printed directly onto the surface of your product. The fact that the digital printer does not use screens allows for a photographic print, with much more detail than traditional screen printing at much lower production costs.
OUR DIRECT TO GARMENT SAMPLES
DIRECT TO GARMENT PRICE GUIDE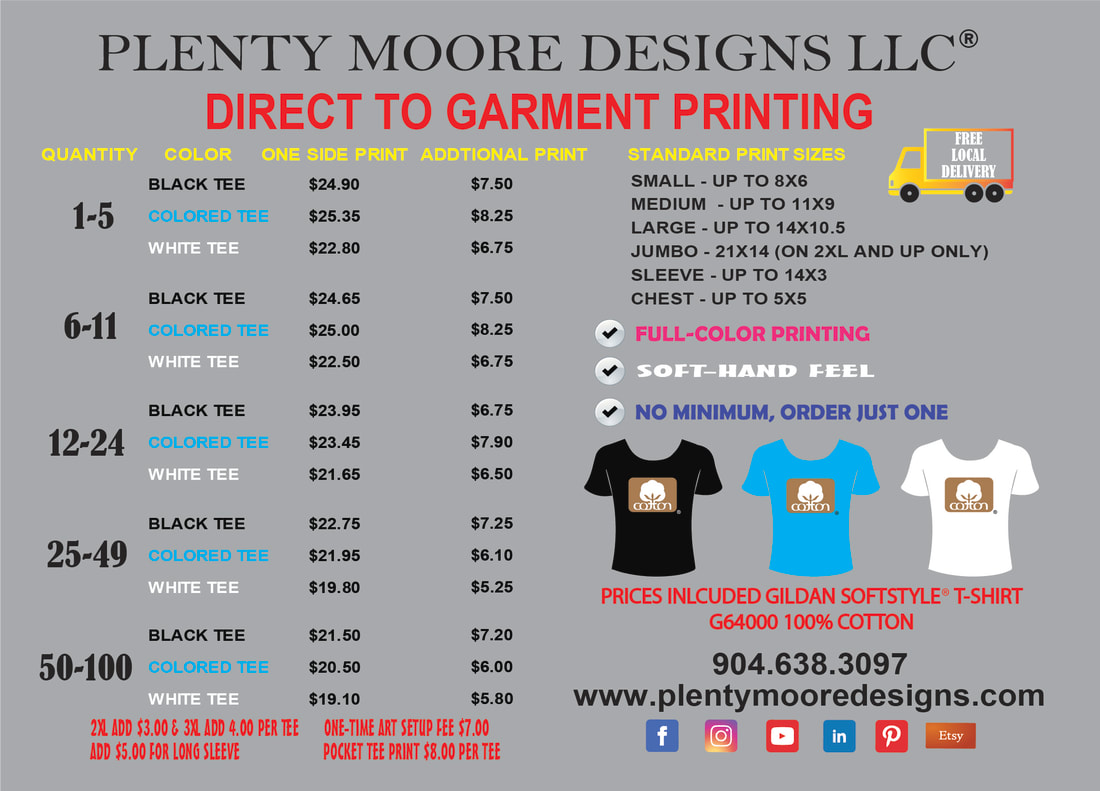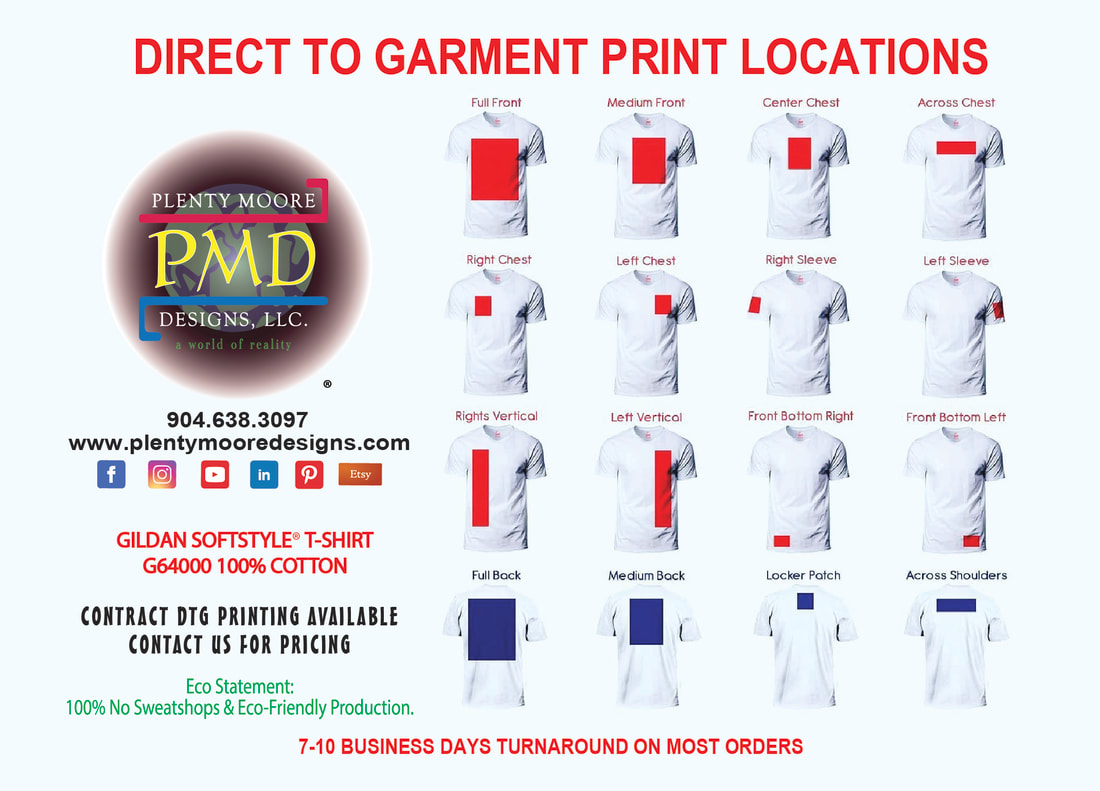 Note: Prices are subject to change.
Right now, there are multiple dominoes falling, and it's causing
price increases
, supply shortages on blank apparel and shipping backlogs at major ports from China to Europe and North America. If any of these affects your order you will be contacted.
Thank you for your patience and understanding.